For all trucks maintaining the correct tyre pressure is vitally important. Tyre pressure has a major impact on fuel consumption, operational cost, road safety and operational availability. Impaqed Products extensive range of state-of-the-art TPMS systems for trucks will provide you with an easy and at the same time powerful tool to constantly monitor your tyre pressure, and temperature.
Take for example this professional system, that neatly fits in a 1-DIN slot in your vehicle's dashboard. The special design and specifications make it ideal for OEM installation as well as retrofit.
As the others also this system is programmable, can constantly monitor up to 38 wheels (10 for the truck and max. 28 for the trailer).
All our TPMS systems offer you maximum flexibility as they allow you to freely change truck-trailer combinations, without any re-programming. Thanks to the use of the intelligent Smart Booster.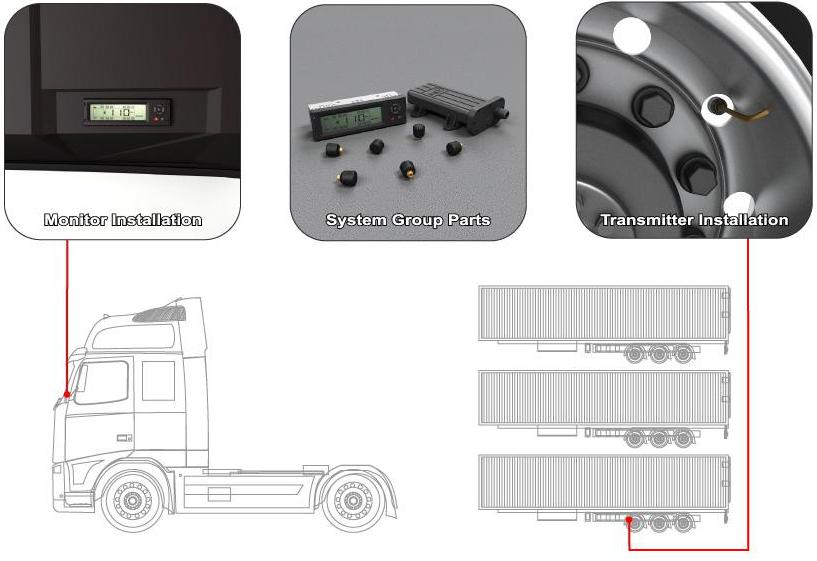 Benefits
Ideal for every truck
Increases road safety
Reduces fuel consumption
Improves tyre life
Real-time information on tyre pressure and temperature
Supports Corporate Social Responsibility
Product information
Tyre Pressure Monitoring System specifically developed for Trucks
Installation by a mechanic or trained DIY
LCD-monitor shows tyre pressure and temperature of the truck and (with a Smart Booster) the trailer
Automatic warning in case of abnormal tyre pressure or temperature, deviating from the set standard pressure
Multiple alarm levels 
Automatic transmission of the sensor data to the LCD-monitor
Memory for the last 10 alarms
Technical specifications
Sensor
Pressure range: 0 ~ 13bar
Operating temperature: -40°C ~ +125°C
Mid-frequency: 434.1 MHz
Dimensions: Ø 33,0 mm x 29,0 mm
Transmitting power: 0 dBm
Mesuring accuracy: ± 0,15 bar
Battery life: ± 5 years
Safety lock
LCD-Monitor
1-DIN, large back-lit LCD display
Mid frequency: 434.1 MHz
Receiving sensitivity: -105dBm
Operating temperature: -30°C ~ +75°C
Dimensions: 190 mm x 60 mm x 55 mm
Input voltage: 12V or 24V