WHAT IS THE IMPORTANCE OF TPMS?
Tyre pressure is an important topic nowadays. Always driving with the correct tyre pressure has many positive consequences; it saves fuel, lowers CO2 emissions, reduces tyre wear and increases road safety. Everyone knows that TPMS has many advantages … but how many people check their tyres at least once every few weeks?
Research by Firestone showed that in England alone there are 75,000 accidents caused by a blowout every year.
That is why there are many campaigns nowadays, also by the government, to draw attention to tyre pressure. Aimed at both private individuals and professional 'drivers' and fleet managers. Think of Fuel-efficient driving techniques, Awareness campaigns for drivers to check their tyre pressure more, etc.
Fuel saving
For most vehicle categories, estimates of the fuel savings that can be achieved with a TPMS system range from a minimum of 2.5% to as much as 7%. This applies to passenger cars as well as trucks and buses. This means that the full purchase price of an Impaqed Products TPMS truck system is usually earned back within a few months. In addition, the other positive effects such as safety, environment and reliability are thus realized 'for free'!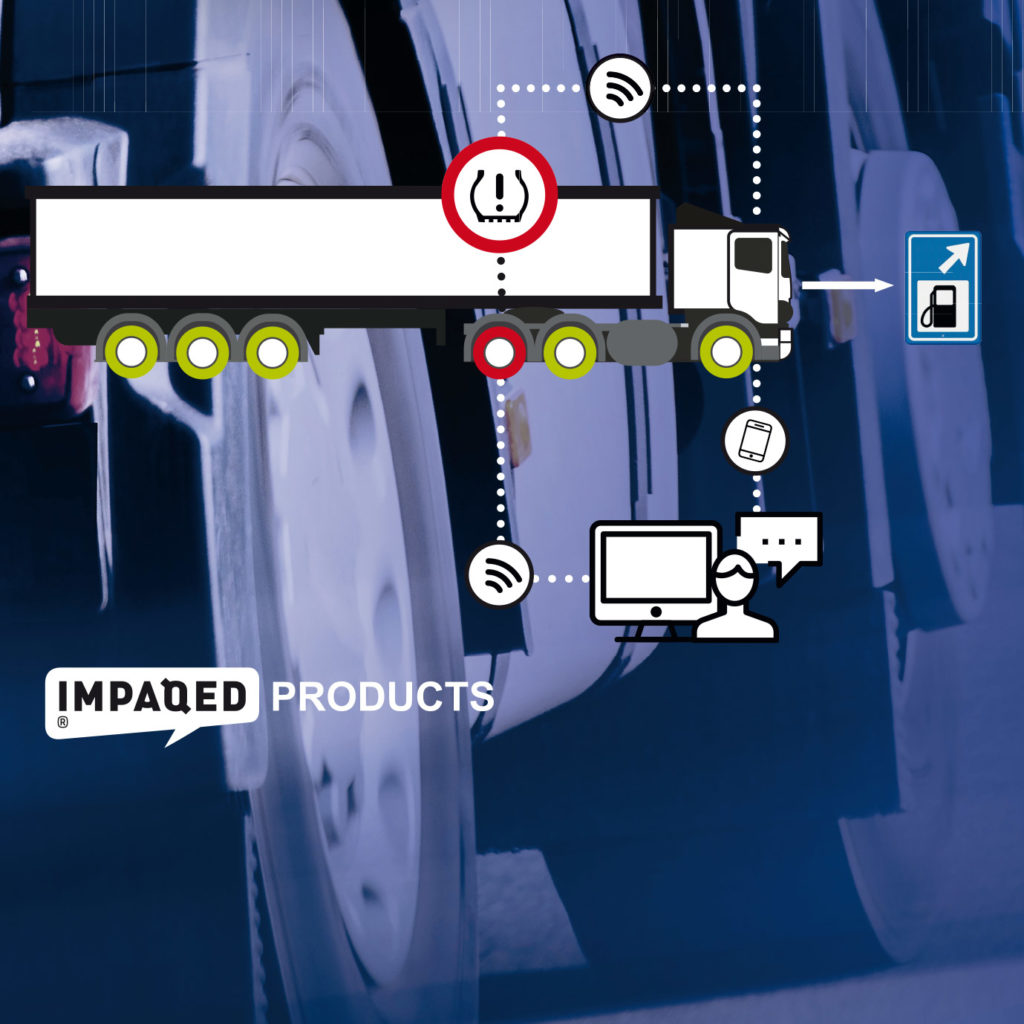 That does not apply to me!
Or does it? Every tyre gradually loses pressure. As a result, many vehicles drive – unconsciously – with insufficient pressure. Every study proves this again and again. In 2008, for example, tyre manufacturer Goodyear carried out research into truck tyres in the Benelux. 68% of the truck tyres had a too low pressure, on average no less than 16% lower than the recommended pressure! Similar figures apply to passenger cars.
Corporate Social Responsibility
For companies that have internal protocols for tyre pressure monitoring, this is a considerable time burden. TPMS systems help considerably in all these aspects and support the daily user of a vehicle without requiring much discipline. Many companies also have a 'green paragraph' as part of their Corporate Social Responsibility policy, in which such objectives are set out. Fitting a TPMS system to the vehicles in use can be a quick and effective contribution to achieving the 'green' objectives. Moreover, by using the TPMS, the employees will become more active and aware of these issues.
Safety
Insufficient tyre pressure quickly leads to a deterioration in the steering and road handling of a vehicle. The lower the pressure, the greater the danger and, for example, the greater the risk of a blow-out. For example, 75% of all truck tyre failures are the result of driving with under-inflated tyres. By detecting pressure drops at an early stage, it is often possible to reach a truck service centre while the vehicle is still on the road, which saves a lot of damage and costs.
Life span of your tyres
Monitoring tyre pressure as closely as possible benefit the life of your tyres. Figures published by Vaco indicate that in the Netherlands alone, 30,000 car tyres are replaced unnecessarily every year as a result of driving with insufficient tyre pressure.
Subsidy opportunities
Because of the aforementioned environmental and budgetary benefits, the German government encourages the purchase of an Impaqed Products TPMS system.
In the Netherlands, this is unfortunately no longer be the case as of 2014. Agentschap.nl has decided that TPMS is such a logical investment that the payback time is so short that it is no longer necessary to support the purchase with an Energy Investment Deduction.
In fact, there is not much to argue against it – our TPMS in a commercial vehicle usually pays for itself well within a year – but it is a pity that our TPMS, precisely because it makes perfect sense, is no longer subsidized.
Curious about our products and the specific advantages of TPMS?
 We offer different systems for all types of commercial vehicles: Trucks, Buses and OTR.