Why do I need a TPMS?
Tyre pressure quite rightly is a 'hot topic' nowadays. Maintaining the correct tyre pressure at all times has many advantages, it saves fuel, reduces CO2 emissions, reduces tyre wear and increases road safety. Everybody knows that… but, how many people actually check their tyre pressure at least once every 2 or 3 weeks? Do you?
That's why there are so many campaigns to build awareness of the importance of tyre pressure, aimed at individual owners, professional drivers and fleet owners.
Fuel saving
An Impaqed Products TPMS will be a very valuable tool to help maintain the correct tyre pressure. For all vehicle categories the realistic fuel savings that can be achieved by permanently maintaining the correct tyre pressure will range from a minimum of 2,5% up to even 7%.
This applies to passenger cars as well as busses and trucks.
As a result the Return On Investment looks very positive. Even for an average passenger car the earn back is within a year, for a truck it will be even shorter. A Truck TPMS will typically earn itself back within 6 to 8 months, in fuel savings alone!
That means all the other advantages like road safety, environment and reliability come 'for free'.
That doesn't apply to me!
Or does it? Every tyre gradually loses pressure, even a tyre in good condition and under normal conditions. As a result many people drive around with one or more of their tyres being under inflated, without being aware of that. Every research proves it, time and time again.
For example Goodyear, being a responsible tyre manufacturer, performed research in 2008 in the Benelux and found that of all trucks a shocking 68% had one or more under inflated tyres. On average they were 16% below the recommended pressure!
For passenger cars and busses similar numbers are being reported.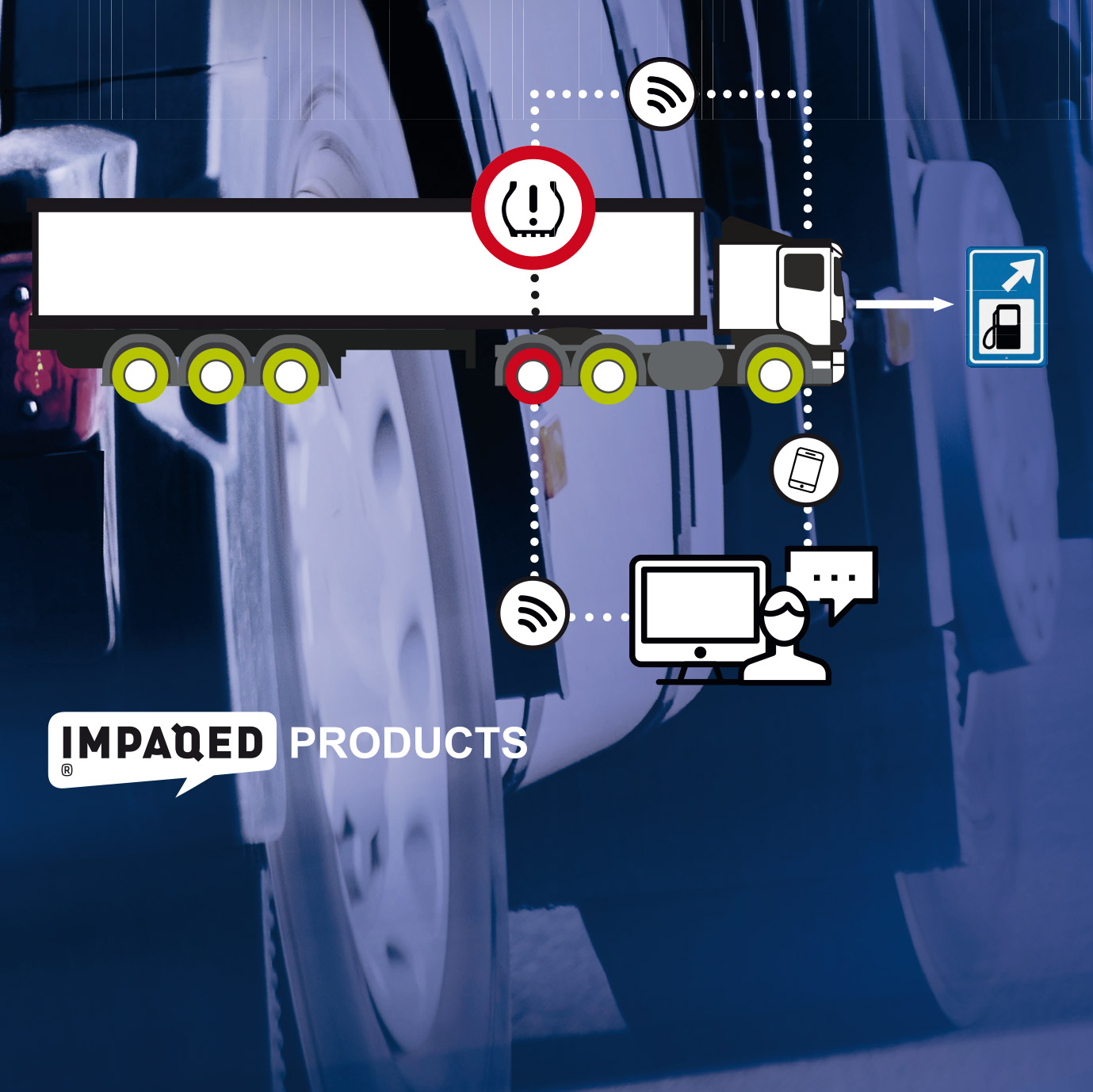 Corporate Social Responsibility
For those companies that have internal protocols and procedures for regular tyre pressure checks, those procedures are quit often not adhered to because of lack of time. A TPMS can be a big help in those cases, as your TPMS will help the daily drivers of any vehicle to constantly check and maintain tyre pressure without taking up any time or requiring any discipline.
More and more companies have 'green' strategic goals, or clearly defined CSR goals in their 5-year plans.
Fitting your vehicles with TPMS will be a big step towards actually achieving those goals.
The great thing is that you can easily install TPMS on your existing vehicles, so you can start saving fuel tomorrow!
No need to wait untill your vehicles are replaced by new ones with low emission lables.
Installing a TPMS will make the daily vehicle user much more aware of all these aspects.
Safety
Low tyre pressure will quickly lead to poor handling and a longer braking distance of any vehicle.
With the decreasing tyre pressure, the dangers rapidly increase. Take for example the risk of tyre blow outs.
As much as 75-80% of all truck tyre blow-outs and ruptures are caused by low pressure.
Thanks to the early warning given by your TPMS, normally you can safely drive to the nearest workshop and have the tyre repaired before any real problem develops. Thus saving needless cost, perventing accidents and maintaining the vehicle's uninterrupted availability.
Tyre life
Maintaining the correct tyre pressure at all times, will have a vey benificial effect on tyre life.
Even in a small country like The Netherlands, the Vaco (the tyre industry association) calculated that on a yearly basis 30.000 car tyres are needlessly replaced because they were prematurely worn as a result of low tyre pressure.
That will never happen to you, will it?