Impaqed Products offers a broad range of TPMS systems for cars. All of them are very user friendly, easy to install and using the latest and most efficient technology. For 'car only' but also for trailer and caravan users we offer this versatile and expendable system that will help you make a huge step forward in fuel economy as well as road safety. In line with your specific wishes and requirements, you can make a choice out of the full range of products.
For example, this uniquely designed TPMS with its monitor attached behind the rearview mirror. That way it takes up no space on your dashboard. Imagine that, a complete professional TPMS system hidden behind your mirror, only 'in your face' when need be.
The internal sensors are safely placed inside your tyres, replacing the normal valve, so nothing 'odd' is attracting attention away from your alloy wheels.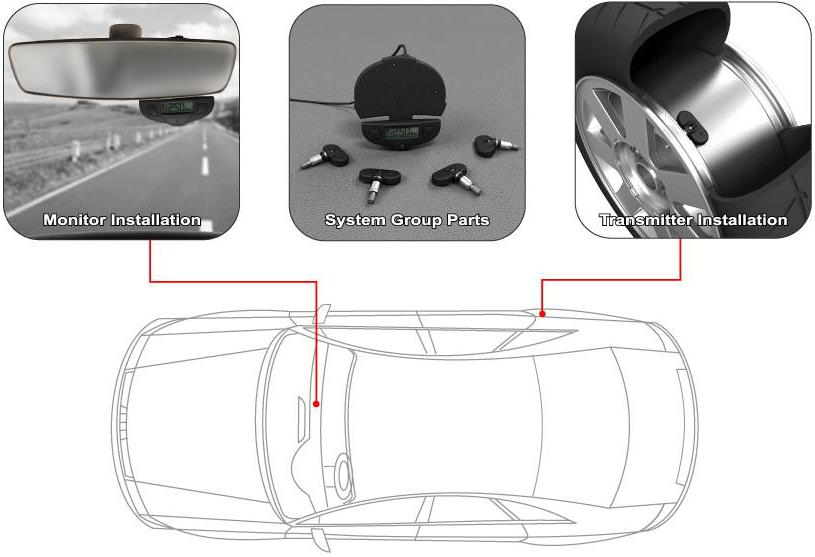 Advantages
Decreases fuel consumptions
Increases tire life 
Real-time information on tire pressure and temperature
Supports 'CSR' (Corporate Social Responsibility)
Optional sensors for a spare tire, twinned rear wheels, or trailer
Innovative design, monitor attached behind the rearview mirror
Product information
Unique design, almost invisible.
LCD-monitor attached to the rearview mirror shows actual tire pressure and -temperature.
Internal sensors placed inside the tyre, provide a trouble-free and long sensor life.
12V power directly from vehicle wiring, so your cigarette lighter socket is not blocked.
Installation by professional or experienced DIY.
Real-time tyre information.
Multiple automatic alarm levels for incorrect tyre pressure.
Automatic transmission and processing of sensor data to LCD-monitor
Memory for last 10 alarms.
Easy wheel position change. 
Content
Technical specifications
Sensor
Mid-frequency: 434.1 MHz 
Battery life: expectancy ca. 5 – 7 yrs
Pressure range: 0 – 8 bar
Accuracy of pressure measurement: ± 0.10 bar 
Range: ± 10 meter
Operating temperature: -40 °C ~ +125 °C
Size: 79 x 59 x 32 mm
LCD-Monitor
Mid frequency: 434.1 MHz 
Sleek LCD display
Operating temperature: -30 °C ~ +75 °C
receiving sensitivty: -95 dBm
Power: via 12V vehicle wiring
Size: 92 x 90 x 39 mm